---
Integrated Holistic Education System (IHES)
KNOWLEDGE AND TAQWA SECRET OF SUCCESS
The place for little elites, we have programmes for babies (0-1 years old) and toddlers (1-3 years old). From early stimulation to Motor Skill training, we have laid out specific programs for your child.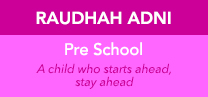 A child who starts ahead, stays ahead. Raudhah is a pre-school program that prepares your child before entering Primary school. Raudhah uses creative and innovative approach to educate your child.
Our integrated educational programme is intended to produce a child who is a practising Muslim that has all the worldly skills as well as the hereafter. Child is  exposed Science and Arithmetic as well as Hafazan and Qiraati.
Our system focuses on outcome-based learning. We focus on knowledge, akhlaq, skills and compentency, academic achievement as well application in real life. We prepare your child for the real world.
Our Philosophy
---
"Where Education is aimed at a balanced growth of personality through tarbiyyah of the spirit, the intellect, the emotions and the physical  willingly and joyfully for the sake of Allah SWT."
Our Vision / Mission
---
"Developing excellent, holistic individuals towards building an excellent generation based on total submission to Allah SWT"
Our Objectives
---
To provide an integrated and holistic educational program suitable for the early development of the child from pre school to tertiary level that produces a wholly practicing Muslim.  More ..
Celebrating 20 years of journey
---
2014 is a special year: ADNI turns 20. We're excited to celebrate this significant milestone with you. Looking back at the past 20 years, many remarkable achievements  were made by our students, your children.
To commemorate turning 20, we have developed a number of special events that include seminars and Islamic concert. We invite you to explore our special coverage, which will continue throughout the year.
Mindful of Allah
---
Whoever is mindful of Allah when he is young and strong, Allah will take care of him when he is old and has become weak, and will bless him with good hearing, eyesight, strength and intellect. One of the scholars who lived beyond the age of one hundred years and enjoyed good strength and reasoning jumped up in a lively manner one day, and was asked about that. He said: 'I kept these physical faculties from sin when i was young, and Allah has preserved them for me now that I am old.' The opposite also applies. One of the Salaf saw an old man begging from people and said: ' This is a weak man who ignored Allah when he was young. So, Allah is ignoring him now that he has grown old.'"
(Jami' al-ulum wal Hikam)
Registration of Students
---
Please follow these links for respective registration:
(Hadhonah/Raudhah/Primary/Secondary/Pre-U)
Our Philosophy

---

"Where Education is aimed at a balanced growth of personality through tarbiyyah of the spirit, the intellect, the emotions and the physical  willingly and joyfully for the sake of Allah SWT."

Our Vision / Mission

---

"Developing excellent, holistic individuals towards building an excellent generation based on total submission to Allah SWT"

Our Objectives

---

To provide an integrated and holistic educational program suitable for the early development of the child from pre school to tertiary level that produces a wholly practicing Muslim.  More ..

Celebrating 20 years of journey

---

2014 is a special year: ADNI turns 20. We're excited to celebrate this significant milestone with you. Looking back at the past 20 years, many remarkable achievements  were made by our students, your children.

To commemorate turning 20, we have developed a number of special events that include seminars and Islamic concert. We invite you to explore our special coverage, which will continue throughout the year.

Mindful of Allah

---

Whoever is mindful of Allah when he is young and strong, Allah will take care of him when he is old and has become weak, and will bless him with good hearing, eyesight, strength and intellect. One of the scholars who lived beyond the age of one hundred years and enjoyed good strength and reasoning jumped up in a lively manner one day, and was asked about that. He said: 'I kept these physical faculties from sin when i was young, and Allah has preserved them for me now that I am old.' The opposite also applies. One of the Salaf saw an old man begging from people and said: ' This is a weak man who ignored Allah when he was young. So, Allah is ignoring him now that he has grown old.'"
(Jami' al-ulum wal Hikam)

Registration of Students

---

Please follow these links for respective registration:

(Hadhonah/Raudhah/Primary/Secondary/Pre-U)

 
---